Bcaa Powder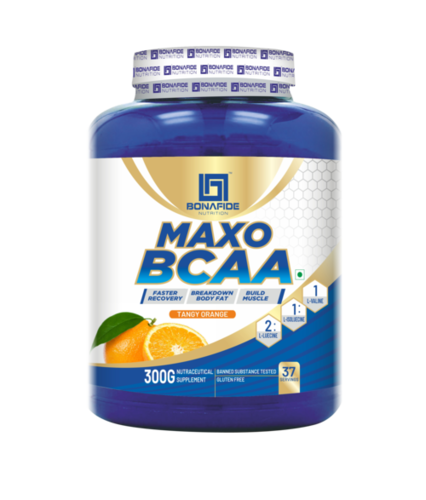 Bcaa Powder
Product Description
Bcaa Powder
BCAAs are the essential amino acids, which increase muscle protein synthesis; this makes it both anabolic and anti-catabolic. The benefits of BCAAs include less muscle fatigue, faster recovery, higher levels of other amino acids, and better protein absorption.
While intense workout, BCAAs rapidly depleted from the muscles, as the body breaks down muscle tissue to use its BCAAs to meet the increased demand for required energy. By taking extra BCAAs during exercise, it helps to fulfill this increased energy demand without losing the gains.
BCAA contains 2:1:1 in ratio of L-Leucine, L-Valine and L-Isoleucine respectively. MAXO BCAA provides 6 gm. BCAA per serving with 3 gm. L-Leucine, 1.5 gm. Isoleucine and 1.5 gm. Valine per serving.
DIRECTION FOR USE:-
Mix 1 scoop (8 gm.) in approx. 150ml-200 ml of water or as suggested by a healthcare expert/dietician/licensed nutritionist.
DOSAGE: - 1 serving (8G) per day.
PRE/POST WORKOUT: - BCAA can be taken as both pre and post workout. Taking Before and during a workout can delay fatigue and protect the muscles and taking after a workout can help with recovery.
CAUTION: - Pregnant or lactating women and people with any medical condition should consult the doctor before consuming this product.
Not recommended for children
STORAGE CONDITIONS:-Store in cool and dry place, away from direct sunlight, heat, moisture and keep the container tightly closed.
NOT FOR MEDICINAL USE:-Not to exceed the stated recommended daily usage.
Close the container tightly after each use.
Keep away from the reach of children
Do not introduce the wet scoop in the powder.
The Product is filled by weight, some settling of contents may occur during transit and storage.
FOR BEST RESULTS: - Please do combine BCAA with proper training and balanced diet.