Amorolfine Hydrochloride 0.25% Cream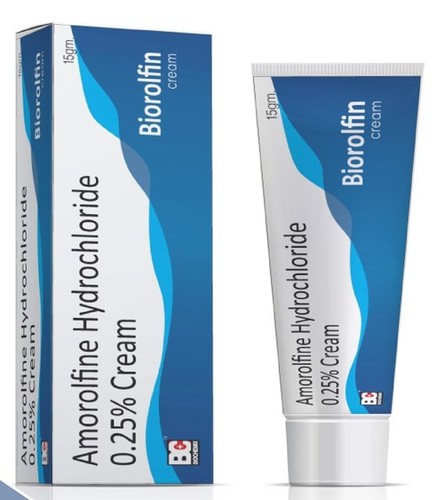 Amorolfine Hydrochloride 0.25% Cream
Product Description
A topical antifungal cream is called Amorolfine Hydrochloride Cream. It is applied to treat infections of nail fungus. It helps treat the infection by eradicating the fungus. You should use Amorolfine Cream in accordance with your doctor's recommendations for dosage and duration. Common side effects include skin blisters, nail diseases like damage and discoloration, skin irritation, rash, or redness at the application site. Contact your doctor if these side effects persist for more than a week.
Frequently Asked Questions
What is the use of Amorolfine Hydrochloride Cream?
Toenail or fingernail fungal infections are treated with amorolfine. A fungal skin infection can frequently spread to the nails. Your nail(s) may thicken, turn discoloured, and even become painful due to the infection.
What is Side effects of Amorfine 0.25 % Cream 30 GM?
Most adverse reactions to Amorfine Cream are mild and will pass when your body gets used to it. Visit your doctor if they persist or if you are worried about them.
Adverse effects of Amorfine Cream
Blisters on skin

Nail disorder

Skin irritation

Skin rash

Erythema (skin redness).
Where do you apply amorolfine cream?
Amorolfine is typically given once weekly to the toenails or fingernails that are afflicted. Your doctor might occasionally advise applying it twice weekly. It is crucial that the impacted regions be cleaned and well dried. Before using this medication, talk to your doctor. Then, take exactly as directed.